MAROON & GOLD RAFFLE 2023-24
FAMILY FUNDRAISER

Mercy families sell tickets during the annual drive to benefit the General Fund at Mercy, which supports the tuition gap, curriculum enhancements, facility upgrades & technology updates. We invite you to join us!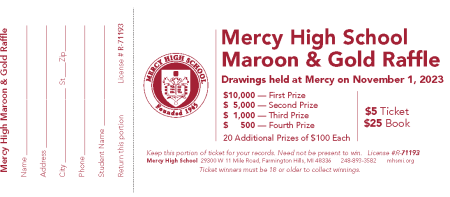 In lieu of purchasing tickets, you may also make a tax deductible donation online at mhsmi.org/giving/maroon-and-gold-donation. Be sure to include the student or staff name in the comments if they need to receive credit for the ticket donation.
2023-2024 WINNERS DRAWING HELD NOVEMBER 1, 2023
RAFFLE LICENSE NO. R-71193
THANK YOU FOR YOUR SUPPORT!
Fundraising & Special Events
248-893-3582