Mercy High School was established in 1945 by the Sisters of Mercy to provide young women in the Detroit area with a Catholic, college preparatory education rich in spiritual and cultural experiences and intellectual challenges. The school, located on Outer Drive and Southfield Road in Detroit, was relocated to a new and larger building in Farmington in 1965. The leadership and sponsorship of the Sisters of Mercy have guided and shaped the continuity of spirit and purpose over Mercy's 77 year history. Mercy is not only a place where values and excellence are the norm, but it is also a name. Mercy tells who we are, what we are about. It is plural by nature: compassionate, hospitable, friendly, loving, caring and hopeful. We strive to be no less than our name.
Mercy High School is a Catholic college preparatory school for young women. The student body is made up of young women from over 60 metropolitan Detroit communities. This broad, inclusive base provides Mercy with a rich, multi-ethnic constituency from diverse, socio-economic backgrounds. The common thread among staff, students and parents is a commitment to academic excellence and the integration of Mercy Values into daily life.
Recognized nationally as an Exemplary Private School by the United States Department of Education and the Council for American Private Education, Mercy has been accredited by AdvancEd. Mercy has been named an Apple Distinguished School since 2013 for being recognized by Apple as a distinguished school for innovation, leadership, and educational excellence.
Mercy High School is a sponsored ministry of the Institute of the Sisters of Mercy of the Americas and is a member of Mercy Education. The Mercy Education System of the Americas is rooted in the Gospel, through the Catholic faith and the Mercy charism. Inspired by Catherine McAuley, Mercy Education nurtures highly competent and deeply compassionate leaders ready to serve a vulnerable world.
Mercy's 25 acre campus is located in Farmington Hills, Michigan on the corner of Middlebelt and 11 Mile Roads. The facility is approximately 20 miles northwest of Detroit, providing easy access to the abundant cultural and educational centers of the metropolitan area.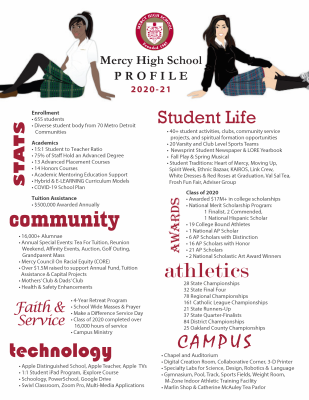 STANDARDIZED TEST SCORE DATA
ACT Composite Scores:
2019-2020 # of testers 176
Mercy Mean: 25.6
SAT Scores
2019-2020 # of testers: 20
Mercy Mean: 1109 total ERW: 556; Math: 553
QUICK FACTS
The school day is 8:00 a.m. - 2:40 p.m.
Average classroom size is 25
Enrollment in each grade averages 160
Students take up to seven classes per semester
University of Michigan and Michigan State were the top 2 schools attended by the Classes of 2010 - 2022.
Class of 2021 earned college scholarships totaling $17+ million volunteered 16,000+ hours of community service.
STAFF
89 Staff Members
75% holding masters degree or higher
An average of 16 years of teaching experience
20 Mercy High School alumnae
MERCY HIGH SCHOOL VALUES
Human Dignity, Mercy, Justice, Service, Option for the Poor
SISTERS OF MERCY CRITICAL CONCERNS
A hallmark of a Mercy education is the development of a strong voice used to support the Critical Concerns of the Sisters of Mercy: Earth; Immigration; Nonviolence; Racism; Women. 
DID YOU KNOW
Mercy has been recognized as an Apple Distinguished School since 2013.
Mercy's 16,000+ alumnae can be found in 49 states and on every continent.
All students participate in a variety of spiritual retreats.
All students utilize an iPad in a wireless educational environment.

100+ Mercy student athletes committed to play a college sport in the last four years.

Mercy publishes a community magazine, MOSAIC, student newspaper, Newsprint, a yearbook, Lore.
Mercy was one of the first schools in the nation to be named exemplary.
The Art Department is considered one of the finest in Michigan and students receive Regional and National Art Awards.
Mercy swim team has 12 state championships and captured the Catholic League title 55 times.
2016 Softball State Champions; 2016, 2017, 2018, 2019 Ice Hockey State Champions.
The Performing Arts Department annually produces a fall play, Christmas concert, spring musical and spring choral concert.