Mercy High School Farmington Hills, Michigan
Mercy High School is a sponsored ministry of the Institute of the Sisters of Mercy of the Americas and is a member of Mercy Education. The Mercy Education System of the Americas is rooted in the Gospel, through the Catholic faith and the Mercy charism. Inspired by Catherine McAuley, Mercy Education nurtures highly competent and deeply compassionate leaders ready to serve a vulnerable world.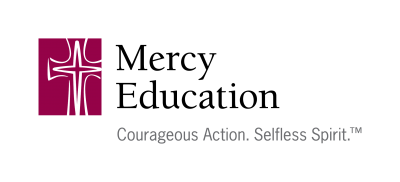 MERCY HIGH SCHOOL MICHIGAN MISSION STATEMENT
Mercy High School, a Catholic college preparatory school immersed in the tradition of the Sisters of Mercy, educates and inspires young women of diverse backgrounds to lead and serve with compassion.
VISION STATEMENT
A Mercy High School education is rooted in the Catholic faith and the charism of the Sisters of Mercy. Our school welcomes and nurtures diverse young women, following the example of Venerable Catherine McAuley, Founder of the Sisters. In order to engender life-long discovery, Mercy High School strives to exemplify an innovative learning community with committed educators and engaged students who seek and share knowledge and wisdom. Our students, graduates, and other members of this Mercy family aspire to live out their relationship with God as they:
recognize their own unique gifts and talents, and appreciate those of others.
seek personal, academic and professional excellence.
give voice to and exemplify their ideals.
pursue compassionate justice through action.
Our cherished community is sustained and advanced by the active support of all members and friends.
BELIEFS
We believe that the Gospel and the Mercy Values of Human Dignity, Justice, Service, Option for the Poor and Mercy are at the heart of everything we do.
We believe our Catholic faith and the examples of Venerable Catherine McAuley and the Sisters of Mercy provide the strong foundation upon which we build our work.
We believe that a spirit of hospitality is essential.
Our ongoing success depends on a strong commitment to these operational values:
Academic Excellence - We value quality teaching and learning within an active learning community.
Collaboration - We value partnerships among individuals and groups within and outside the Mercy community which support our success as individuals and as an organization.
Diversity - We value and celebrate people of varied cultural, ethnic, faith, and socioeconomic backgrounds.
Innovation - We value creativity, problem-solving, divergent thinking, continuous improvement, and entrepreneurship.
Integrity - We value acting in an honorable, moral, and peaceable manner in all circumstances. 
Leadership - We value actively seeking solutions to school, local, and worldwide problems.
Respect - We value each individual, regardless of differences, because we are all children of God.
Sustainability - We value acting as good stewards of our financial, physical, and environmental resources.
MERCY HIGH SCHOOL VALUES
Mercy High School identifies these five values: Human Dignity; Mercy; Justice; Service; Option for the Poor. These values inspire and challenge all at Mercy High School in the daily living of our spirit.
CRITICAL CONCERNS
A hallmark of a Mercy education is the development of a strong voice used to support the Critical Concerns of the Sisters of Mercy: Earth; Immigration; Nonviolence; Racism; Women. 
Rooted in Mercy
Mercy High School is a sponsored ministry of the Institute of the Sisters of Mercy of the Americas and is a member of Mercy Education. On September 24, 1827, Catherine McAuley opened the House of Mercy on Baggot Street in Dublin, Ireland, including the first "Mercy School" – a classroom dedicated to training young women. In 1831, Catherine and two companions took vows to become the first Sisters of Mercy, beginning a religious order to carry on their important service to those who were poor, sick and uneducated. Sisters of Mercy and their companions, associates and co-workers continue Catherine McAuley's mission of education. To ensure that mission into the future, the Sisters of Mercy established Mercy Education in 2017. Today, in the spirit of Catherine, the Sisters of Mercy respond to emerging needs, guided by five Critical Concerns: Earth, Immigration, Nonviolence, Racism and Women. The Critical Concerns shape Mercy schools' approach to spirituality, service, curriculum and more.
Historical Sketch
The Mercy High School Michigan tradition began in 1945 when the Sisters of Mercy opened Our Lady of Mercy High School at Outer Drive and Southfield Roads in Detroit. The Sisters of Mercy established the school to offer young women the opportunity to receive a value-centered education in an environment of academic excellence. As enrollment grew, Mercy relocated to a new and larger building in Farmington Hills in 1965. Mercy is proud of its 16,000+ alumnae throughout the world who are now making a difference. The student body is made up of young women from over 70 metropolitan Detroit communities. This broad, inclusive base provides Mercy with a rich, multi-ethnic constituency from diverse, socioeconomic backgrounds. The common thread among staff, students and parents is a commitment to academic excellence, cultural diversity and the integration of Mercy Core Values into daily life.