COVID-19 VISITOR SYMPTOM TRACKER FORM
COVID-19 DATA DASHBOARD
COVID-19 is a contagious viral illness that spreads in the air through coughing, sneezing, and talking. Recent information suggests COVID-19 is spread by people who are not showing symptoms. It may be possible that a person can get COVID-19 by touching a surface or object that has the virus on it, then touching their own mouth, nose, or possibly their eyes. Symptoms include fever, cough, shortness of breath or difficulty breathing, fatigue, muscle or body aches, headache, new loss of taste or smell, sore throat, congestion or runny nose, nausea or vomiting, and diarrhea. For additional information regarding COVID-19, please visit the OCHD website at 
https://www.oakgov.com/health.
Please watch for any symptoms of COVID-19. If your daughter develops symptoms, we urge you to get her tested for COVID-19. Testing locations can be found using the COVID-19 Test Finder at 
https://www.michigan.gov/coronavirus
. If your daughter or anyone residing in your household tests positive for COVID-19, is awaiting COVID-19 test results or is symptomatic, your daughter must stay home from school. COVID-19 positive test results or exposure should be promptly reported to Dean of Student Affairs, Mrs. Eleasha Tarplin (
edtarplin@mhsmi.org
 or 248-893-3568). COVID-19 data within our Mercy HS community will be disclosed at the end of each week.
To protect the health of our School Community and per the Emergency Order issued by the Michigan Department of Health and Human Services on October 6, 2020, Mercy High School will provide Public Notice to our School Community regarding School Associated Cases of COVID-19. Within 24 hours of being notified of a School Associated Case by the Oakland County Health Department or any other regional health department, this dashboard will be updated to include new and cumulative COVID-19 case counts. Individuals identified as Close Contacts of School Associated Cases will be notified separately and directly by the Oakland County Health Department.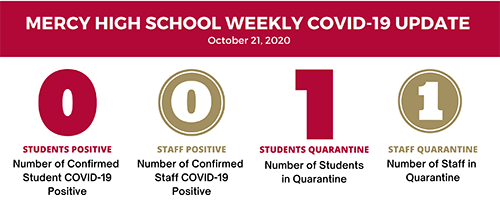 As of 10/21/20 our current numbers stand at:
Number of students confirmed COVID-19 positive: 0
Number of staff confirmed COVID-19 positive: 0
Number of students in quarantine: 1
Number of staff in quarantine: 1
Cumulative confirmed case history since August 20, 2020: 2
The Oakland County Health Department assured us that our continued adherence to social distancing, limited class sizes, a rotating hybrid schedule, wearing of masks, and disinfecting practices offer us the best chances to mitigate the spread of this virus throughout the school. As we work in partnership for the safety of our community, please encourage your daughter to also follow social distancing practices outside of school. Please know that you will be personally contacted by the local health department if your daughter is ever considered to be at any exposure risk. 
---
COVID-19 HOTLINE
Do you need answers to COVID-19 health screening for your student? Oakland County has entered a partnership with Beaumont Health making available a telephone screening hotline to assist parents and guardians to identify potential illness in students prior to entering a school. Hotline staff can help answer questions about COVID-19 symptoms, the need for testing, and what circumstances are considered high-risk when sending a child into a school facility.
The hotline is available at 248-551-4242 from 5 a.m.- 8 a.m. Monday-Friday through Dec. 30. Callers will speak to Beaumont health care professionals who can provide guidance and any recommendations necessary and refer as needed to the Health Division or other healthcare providers for additional follow-up.
General COVID-19 resources can be found on the Health Division's website at www.oakgov.com/covid or by contacting Nurse on Call at 800-848-5533 or noc@oakgov.com. Nurse on Call is available 8:00 a.m. to 6:00 p.m., Monday through Friday, and 9:00 a.m. to 12:00 p.m. Saturday. For up-to-date public health information, follow @publichealthOC on Facebook and Twitter.
---
COVID-19 SCHOOL PLAN
The Mercy Return to School Response Team has worked diligently to develop a framework allowing for a safe reopening of school and to address each of the MI Safe Start phases. This plan was developed with care and concern for student learning and health, as well as an ability to remain flexible since conditions and protocols may rapidly change.
A hybrid model for return to school under Phase 4 has been selected for the reasons listed. A hybrid model:
Is supported by 80% of our parents and students.
Allows for the return to school in a controlled manner as we closely monitor local COVID-19 infection trends.
Reduces student infectious exposures when 6' social distancing measures are in place. 
Employs advanced Mercy technology, infrastructure, resources, and staff skills to implement a model that supports academic excellence.
Encourages ill students to stay home, thus reducing the risk of exposure to others.
Includes reduced class sizes to help with enforcing hygiene and health standards while accommodating a complicated high school program and schedule.  
Includes social distancing protocols which increase our chances of maintaining a healthy instructional staff for continuity of learning.
As a result, we are committed to a hybrid model for Phase 4, with plans to resume full return to school in Phase 5. Contingency plans are ready should the need arise to employ remote instruction (Phases 1-3).
The safety, mental wellness and learning needs of our Mercy family is of highest priority. Through adherence to stringent COVID-19 prevention protocols, we commit to providing the excellence of a Mercy education for each of the possible return to school Phases. Working together, we can lessen the risks associated with virus transmission to maximize the possibility of resumption and continuity of full in-person instruction as soon as possible.
We take seriously our responsibility as educators to do all that we can to help our students continue to grow academically, spiritually and socially through this challenging time. As we all know, there is no substitute for the attention and engagement that is only possible with in-person learning. We ask your support for the proposed plan as we move toward that goal.
Because COVID-19 is a novel disease, our knowledge and best practices are ever evolving. What is consistent is our priority to the health and safety of our students and staff, while committing to academic excellence for all students.
Thank you for your support as we work in partnership to navigate these extraordinary circumstances.