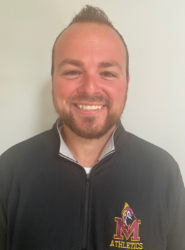 WELCOME NEW ATHLETIC DIRECTOR BRANDON MALINOWSKI
Dear Mercy Family,
We are pleased to announce that Mr. Brandon Malinowski, Athletic Coordinator of the Catholic High School League (CHSL) and Interim Athletic Director at Marian High School, will assume the role as Mercy High School Director of Athletics beginning July 1, 2021.
The search process that led to Mr. Malinowski was inclusive and comprehensive, with nearly 100 applicants. The Search Committee was composed of 17 stakeholders that included student athletes, alumnae athletes, parents, coaches, C.O.R.E. representation, athletic directors, administrators, and community stakeholders. The evaluation of candidates was based on experience in working with teenage female athletes, supervising and mentoring coaches, knowledge in MHSAA and Catholic League process and regulations, athletic administrative experience, innovative vision, interpersonal skills, and ability to support the Mercy Values, Mission and Strategic Plan.
The Search Committee sought a seasoned and highly capable leader, an individual with the ability to promote and embrace the excellence of Mercy High School Athletics. Candidates shared a presentation followed by a robust in-person interview and discussion with the committee.
Brandon joins Mercy HS with outstanding experiences and accomplishments. He has a Bachelor's Degree in Sports Management and will soon obtain certification in Athletic Administration through the National Interscholastic Athletic Administrator's Association. Having served 8 years with the CHSL, the largest Catholic sports league in the United States, Brandon has extensive knowledge of CHSL and MHSAA rules and regulations regarding recruiting, transfers, Title IX, academic requirements, personnel considerations, and the overall strategic planning and interpersonal skills needed to lead our highly regarded athletic program.
As Interim Athletic Director, Brandon demonstrated excellence in managing multiple sports programs and building community relationships. Importantly, Brandon has extensive experience in coaching female athletes, specifically our Mercy Marlins! Brandon celebrated a State Championship as Varsity Head Coach with our Mercy Hockey Team in 2012-2013 (Varsity Head Coach 2011-2103, Varsity Assistant Coach 2009-2011, Junior Varsity Coach 2009), and was part of the Mercy HS Softball Coaching Team (2008-2013). 
Brandon was selected and endorsed by the Search Committee because of his experience, expertise, enthusiasm, vision, and dedication to Mercy's outstanding athletic program. We are excited for him to share his many talents with us!
Please join us in welcoming Mr. Brandon Malinowski to the role of Director of Athletics at Mercy High School.
In Mercy,
The Mercy Administration
---
Dear Mercy Community,
I am most honored to accept the position of Athletic Director at Mercy High School. I would first like to thank Dr. Kreger, Principal Sattler, the rest of the administrative team, and the search committee. I am thrilled to return to Mercy High School to be a part of this exceptional Catholic community filled with outstanding academics, extra-curricular activities, and athletic history.  
I graduated from Gabriel Richard Catholic High School in Riverview, and went on to complete my bachelor's degree in Sports Management at Madonna University. I have truly appreciated my lifelong journey in Catholic education and all the benefits it provided me. 
While completing my degree, I coached softball and hockey at Mercy High School, where I fell in love with the Mercy Community. I thoroughly enjoyed facilitating my student athletes to victory on and off the field while working with the Athletic Department. Being around Mercy High School for my entire life has given me a strong bond and deep love and commitment to the community. I look forward to expanding on the success and traditions that Nancy Malinowski and Kate Scalzi have built. 
Upon graduating from Madonna, I accepted the position of Athletic Coordinator for the Catholic High School League. Over the last eight years, I collaborated with many great individuals in the Catholic League Community and feel very fortunate to have worked for fantastic colleagues, Vic Michaels and Mike Evoy. During my time in the Catholic League, I led many sports programs and worked on enhancing the education, health and safety of schools in the Archdiocese of Detroit. I was also able to establish wonderful relationships with many individuals in the Catholic League. Over the last 6 months, I had the privilege of being the Marian High School Athletic Director, filling in for my friend, peer, and mentor, the late Dave Feldman. I am very excited to bring my experiences and relationships from the Catholic League and interim Athletic Director experience to this position. 
I look forward to fostering positive relationships with the students, staff, faculty, and community and will continue to build on the excellence of the Mercy Athletic Program in ensuring each student athlete reaches her full potential. I am grateful for this opportunity to uphold the mission, vision, and values of Mercy High School and to work in a faith filled environment.
Sincerely,
Brandon Malinowski