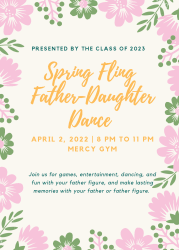 FATHER/GUARDIAN DAUGHTER DANCE
Save the date for the Mercy HS Father Daughter Dance Spring Fling hosted by the Junior Class! Mercy students and Dads/Male Guardians are invited for a fun night of dancing and games.
Saturday, April 2, 2022
8:00pm - 11:00pm
Mercy HS
Tickets $41 Per Family
One ticket is required for each family unit of a Dad/Male Guardian and daughter(s). Tickets will be on sale beginning March 14 
online here
.