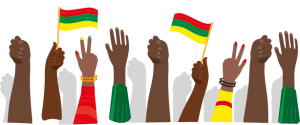 Join Mercy schools in celebrating Black History!
Lord God, as we begin this month in celebration of Black History, help us to never forget that history and instill in all of us the willingness to share that history, our collective history, with our youth and others throughout the year. Guide us to find your wisdom so that we may live and love as one.
Black History Month Assembly
Mercy Human Relations Council will present the Black History Month Assembly via Zoom on Friday, February 25. The theme is Black Health: Let's Talk About It featuring special guest speakers. 
Check out the flyer with panelist info here
.
Expressions Contest
The theme of Black History Month 2022 is Health and Wellness in the Black Community. Mrs. Smith is proud to announce a creative expression contest based on that theme.
All Mercy students are invited to choose a quotation of focusing on Black Health and Wellness and express themselves in any genre. Creative pieces can take any form: essay; story; work of art or music; poem, or any other form of communication.
Student submissions are due March 11, 2022. The THREE top entries will win $100! 
Learn more here
.