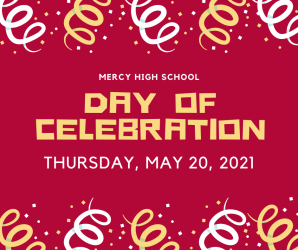 2021 Mercy Day of Celebration
All students are asked to please dress nicely for this special day!
8:30am - 9:15am Adviser Party & Breakfast
9:30am - 11:00am Honors Convocation
11:15am - 2:00pm Moving Up
Each grade will participate in Moving Up separately and also enjoy outside activities. Students should bring lunch or snacks from home for the afternoon.

GOAL students are welcome to attend Mercy Day of Celebration in-person. All students must attend the full day, 8:30am - 2:00pm and remember to complete the MHS Student Daily COVID-19 Symptom Tracker. 

The Auditorium/Gym parking lot (parking lot facing Middlebelt Rd) will be closed during the school day for outdoor activities. No student or staff may park in this lot on Thursday, May 20. Everyone must use the Staff/Flagpole parking lot (parking lot facing 11 Mile Rd). Students may still be dropped off and picked up at the Auditorium/Gym entrance. Barrels will be moved in the morning to provide students who usually park in the Auditorium/Gym parking lot access to the Flagpole parking lot. The Auditorium/Gym parking lot will close at 8:30am.
Join us online! Watch Honors Convocation and Moving Up via livestream.