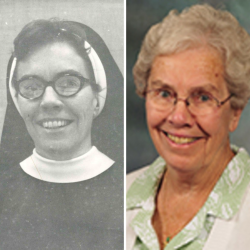 In Loving Memory of Sr. Mary Camille Kelley
Please pray for the repose of the soul of Sister Mary Camille Kelley '49 who passed away late Sunday evening, April 18, 2021. Sister Camille was the first registered student of Mercy High School, Mercy Principal (1969-1978), Board of Trustee (2005-2011) and donor.
The Sisters of Mercy shared the following funeral arrangements and celebration of life for Sister Camille.
There will be a vigil service at Heeney-Sundquist Funeral Home on Saturday, April 24 at 10:00am for Sister Mary Camille Kelley. The service will not be available through Zoom, however a recording will be made for later viewing. Heeney-Sundquist is located at 23720 Farmington Road, Farmington, MI 48336 north of Grand River Road.
Condolences may be sent to Sister Camille's dear friend:
Sister Mary Joel Zobro
Commerce Care Center
100 Decker Road
Walled Lake, MI 48390
Donations
 are welcome in memory of Sister Mary Camille Kelley Endowed Scholarship Fund care of Mercy High School.
Please keep Sister Camille, her family and the Sisters of Mercy Community in your prayers.