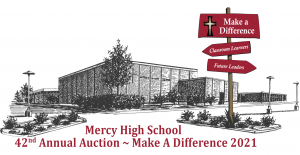 The Mercy High School Auction is our largest fundraising event and we need your help to make this year a success. Visit mhsmi.org/auction to learn more!
Ticket Information
Tickets are available for purchase now! Tickets range from a package that includes dinner delivered to your door, a package featuring a special gift of Mercy branded wine glasses and cutting board, and a ticket to allow online access for bidding.
Special ticket promo code for $50 off. Use promo code NEWYEAR at checkout to get $50 off any upgraded ticket package. Available through Wednesday, January 13.
Donate an Item
Successful auctions always depend on fabulous gifts. The ideas are endless, and we welcome and appreciate your donations. Auction item wish list available on Amazon here.
Be A Sponsor
Becoming an Auction Sponsor is a great way to support the Auction and honor your family or promote your business! Many Sponsorship levels include tickets to the event and special gifts to show our appreciation for your support!
Principal's Pick
We are excited to announce this year's Principal's Pick..... Students and Teachers have spoken- Air Conditioning is on the way! This year's Live Paddle Raise will support adding air conditioning in five classrooms in the south hall this summer! This project will ensure a comfortable learning environment for students and teachers and ensure that Mercy remains competitive in the educational market. 
Diamond Earrings Raffle
Buy a chance to win a beautiful pair of Diamond Earrings from Orin Jewelers: 14K White Gold .50 cttw Lovebright Diamond Studs. This exquisite pair is valued at $1,495. Only 52 chances at $100/chance. This sold out last year!!
Special thanks to the 2021 Honorary Chairs
Leigh Chandler & Lane Coleman P'20 P'22

Lorri & James Delaney P'21

Sharad & Elizabeth Jain P'21

Rita Dilworth Lewry '77 & Tom Lewry P'15
Thank you in advance for your support!
Office of Special Events
Gina DeAgostino Gray '91 | 248-893-3535 | auction@mhsmi.org