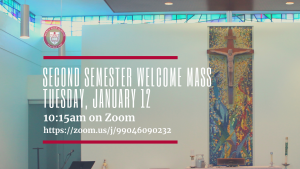 JOIN US FOR SECOND SEMESTER WELCOME MASS LIVESTREAM
You are invited to join us virtually for our Second Semester Welcome Mass Tuesday, January 12 at 10:15am via Zoom livestream here. Worship with us as we celebrate the beginning of a new year and new semester at Mercy.
Please note students will be celebrating Mass in 4th hour classrooms on both Monday, January 11 (Cohort KC) and Tuesday, January 12 (Cohort SF). Special schedule available here.