School & Student Successes
National Merit Semifinalist -
We are proud to congratulate
senior Anastasia Warner for being awarded National Merit Semifinalist status. Anastasia represents less than one percent of US high school seniors, and reflects the highest scoring entrants in each state. We complement Anastasia on her hard work and accomplishments as she advances to the Finalist level, where she will compete for a National Merit Scholarship® award.
AP Scholars 2017 - The AP Scholar Awards recognize high school students who have demonstrated exemplary college-level achievement on AP Exams.
AP Scholars
Frankowski, Claire
Gier, Lydia
Janitz, Elizabeth
Kreucher, Jordyn
Lobbia, Allison
Mclaughlin, Claire
Ryan, Caitlin
Vanacker, Sydney
Warner, Anastasia
Yassay, Jillian
AP Scholar with Honor
Belans, Nicole
Colleran, Katherine
Cooper, Elise
Kurpiers, Sarah
Lobbia, Marissa
Nandigama, Saveri
Sanderson, Alexandra
Zheng, Yayun
AP Scholar with Distinction
Foley, Lauren
Jones, Edith
Zaremski, Giavanna
Let's Hear it for the STAFF! Mercy is proud to announce all teaching staff are 100% Apple Teacher certified! Apple Teacher is a professional learning program designed to support and celebrate educators using Apple products for teaching and learning. We are Mercy! #AppleTeacher 
MHSAA Acknowledgement - Way to go, Marlins on the following accolade from the Michigan High School Athletic Association: "The MHSAA would like to congratulate Mercy High School for receiving no negative officials reports of concern, ejection or sportsmanship during the previous school year. It is a credit to your student-athletes, coaches, administration, staff and community for demonstrating such positive sportsmanship throughout an entire school year." We are Mercy!
CONGRATS to
Lily Beasley '20
who won third place in the junior category of the US National Scottish Fiddling Competition in Pennsylvania earlier this month! All of the competitors had to qualify by winning a regional competition to compete in Nationals. Lily was the only competitor from Michigan. This is Lily's second year competing in nationals and first year to place.
Newly Elected Class of 2021 Officers - Congratulations to these new members of Mercy Student Government serving the freshwoman class!
Class Officer Board
Sophia Holdwick
Dalia Housey
Maddie Kenney
Gabi Micallef
Alexa Zydeck
Human Relations Council Representatives
Leila Hunter
Helena Kucera
Blanca Straub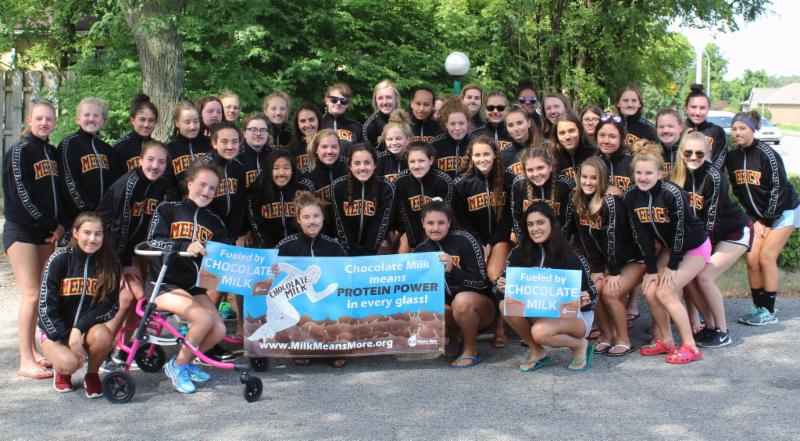 Michigan Chocolate Milk Mustache Celebrities! Mercy High School's Swim & Dive team has been named one of United Dairy Industry of Michigan's (UDIM) Chocolate Milk: Nature's Sports Drink grant recipients, which emphasizes good nutrition.
Yay, Yearbook - Lore staff received news that the 2017 Lore "This is What You Came For" was recognized with a first class ranking from the National Scholastic Press Association and a Spartan award from the Michigan Interscholastic Press Association, making it one of the top yearbooks in the country and the state of Michigan. One of the judges commented, "Lore 2017 is one of those very rare yearbooks that looks great at first glance, and even better as you look more closely at the details of each page." This marks the second straight year the yearbook has received such distinction.