School & Student Successes
Mercy Multi-touch Book Now Available 
Mercy is proud to announce our
'Education and Technology at Mercy High School Michigan'
Multi-touch book is now available at the iBooks Store!
This Multi-touch book was submitted with our application to be an Apple Distinguished School. The program required two major application components:
Mercy had to commit to 85% of its teachers becoming Apple Distinguished Teachers

The school had to submit a multi-touch book which addressed five different areas of innovation using technology.
Quiz Bowl- Mrs. Lauren Marquard and Mrs. Ann Lusch are coaching the Quiz Bowl team this year, along with parent volunteer Mr. Ken Wolffe (father of Emily Wolffe '14). The first meet of the year was held on November 14, and all teams competed vigorously.  Mercy's JV team is currently undefeated and sitting at the top of their division!  We would like to congratulate all of our competitors, and we wish them best of luck for the rest of the 2017-2018 season!
Varsity 
Junior Varsity
Novice
---
French 2 House Projects from Around the World
| | | |
| --- | --- | --- |
| | | |
Madame Campbell's French 2 students recently decorated her classroom with 40 original design architectural creations of authentic French homes from around the Francophone world. Each student was assigned a region from the French speaking world to research using actual real estate listings from French websites. Once the student found a home they would like to build, its location was found using google earth and google street view. A real estate listing was written by the students in French and shared with members of the class. The homes had to be built, decorated artistically and culturally authentic, with all rooms and furniture labeled in French to reinforce the vocabulary of the lesson. Students used the Tinkercad program and our 3D MakerBot replicator printer in the media center to make at least 1 piece of furniture in the homes. Most homes have many floors and some roofs come off to display the detailed furnishings and interiors of the many rooms included. The homes built by the students are very authentic and demonstrate hours of dedicated hard work which surpassed all expectations. The homes are used in an oral assessment in which the students role play prospective real estate agents and potential buyers using French to negotiate the sale or lease of the property, based on a particular need and situation given in class. This was a fun project and made learning French relevant and functional! Come find your dream home in our Parade of French Homes from around the world from France, Louisiane, Sénégal, Saint-Martin, Québec, Madagascar to Tahiti and French Polynesia.
---
What an achievement to play a sport at the college level! Big CONGRATULATIONS to our senior college bound Marlin athletes: Brooke Madak - Basketball, Siena Heights; Anna Dixon - Softball, Hillsdale; Alexa Rybicki - Diving, University of Pennsylvania; Mya Loniewski - Swimming, University of Maryland (Baltimore Cty); Kendall Goit - Swimming, University of Pittsburgh; Katie Minnich - Swimming, University of Michigan. Good luck, girls!
---
Ethnic Bazaar 2017
Ethnic Bazaar is long-standing Mercy tradition which highlights the diversity of Mercy through song, dance, poetry, prayer, food, and fashion. Everyone at Mercy takes pleasure in this special day to honor, educate, and incorporate different ethnicities.

Human Relations Council proudly presented Ethnic Bazaar "We are the World" on November 17th. The Drama Studio was packed with cheering students and proud parents watching the wonderful performances. #WeAreMercy
---
Mercy girls went on a road trip and showed some real Mercy spirit during Spirit Week 2017. Check out a video compilation from Newsprint here. Our hearts were also filled from serving and spreading the spirit of love and compassion on Make a Difference Day! #MakeMercyReal #WeAreMercy
---
The following students have been selected for the MSVMA High School Regional Honors Choir, which is made up of the top voices in our region. They will perform together at a concert at South Lyon HS on December 3. These students will also have an opportunity to audition for State and All-State Honors Choir.
| | |
| --- | --- |
| Raquel Segars | Alto 1 |
| Alana O'Donnell | Alto 1 |
| Elinor Harrison | Alto 1 |
| Kylie Kreucher | Soprano 1 |
| Kristina Porcalla | Soprano 1 |
| Cayla Stus | Soprano 1 |
| Cara Forfinski | Soprano 2 |
| Emma Pickett | Soprano 2 |
The iWizards participated in
Global Collaboration Day
last month and staged an event to launch discussion of a global project with other student tech teams. They used FlipGrid, Google Hangouts and a Google Survey. They enjoyed hanging out with a team at Pinch Elementary in WV. The Hub was built by the iWizards last year and has members from six countries and fifteen states. Visit at 
techteamhub.weebly.com
.
CONGRATULATIONS to the following students named to the Scholastic All-Catholic Team!
| | | |
| --- | --- | --- |
| First | Last | Grade |
| Katherine | Broderick | 10 |
| Elizabeth | Chevalier | 10 |
| Marissa | Ernat | 10 |
| Grace | Fadool | 10 |
| Rachel | Glowzinski | 10 |
| Katherine | Hutter | 10 |
| Madison | Konja | 10 |
| Juliana | Petrucci | 10 |
| Angela | Rea | 10 |
| Isabelle | Sawicki | 10 |
| Grace | Turner | 10 |
| Dana | Yono | 10 |
| Madeleine | Ballard | 11 |
| Caroline | Bimberg | 11 |
| Jessica | Dillon | 11 |
| Nathalie | Gijsbers | 11 |
| Isabelle | Miner | 11 |
| Abigail | Najar | 11 |
| Kylie | Scott | 11 |
| Casey | Stoneback | 11 |
| Sophie | Vanderweele | 11 |
| Katherine | Minnich | 12 |
| Alexandra | Thomas | 12 |
| Anastasia | Warner | 12 |
---
National Merit Semifinalist -
We are proud to congratulate
senior Anastasia Warner for being awarded National Merit Semifinalist status. Anastasia represents less than one percent of US high school seniors, and reflects the highest scoring entrants in each state. We complement Anastasia on her hard work and accomplishments as she advances to the Finalist level, where she will compete for a National Merit Scholarship® award.
AP Scholars 2017 - The AP Scholar Awards recognize high school students who have demonstrated exemplary college-level achievement on AP Exams.
AP Scholars
Frankowski, Claire
Gier, Lydia
Janitz, Elizabeth
Kreucher, Jordyn
Lobbia, Allison
Mclaughlin, Claire
Ryan, Caitlin
Vanacker, Sydney
Warner, Anastasia
Yassay, Jillian
AP Scholar with Honor
Belans, Nicole
Colleran, Katherine
Cooper, Elise
Kurpiers, Sarah
Lobbia, Marissa
Nandigama, Saveri
Sanderson, Alexandra
Zheng, Yayun
AP Scholar with Distinction
Foley, Lauren
Jones, Edith
Zaremski, Giavanna
Let's Hear it for the STAFF! Mercy is proud to announce all teaching staff are 100% Apple Teacher certified! Apple Teacher is a professional learning program designed to support and celebrate educators using Apple products for teaching and learning. We are Mercy! #AppleTeacher 
MHSAA Acknowledgement - Way to go, Marlins on the following accolade from the Michigan High School Athletic Association: "The MHSAA would like to congratulate Mercy High School for receiving no negative officials reports of concern, ejection or sportsmanship during the previous school year. It is a credit to your student-athletes, coaches, administration, staff and community for demonstrating such positive sportsmanship throughout an entire school year." We are Mercy!
CONGRATS to
Lily Beasley '20
who won third place in the junior category of the US National Scottish Fiddling Competition in Pennsylvania earlier this month! All of the competitors had to qualify by winning a regional competition to compete in Nationals. Lily was the only competitor from Michigan. This is Lily's second year competing in nationals and first year to place.
Newly Elected Class of 2021 Officers - Congratulations to these new members of Mercy Student Government serving the freshwoman class!
Class Officer Board
Sophia Holdwick
Dalia Housey
Maddie Kenney
Gabi Micallef
Alexa Zydeck
Human Relations Council Representatives
Leila Hunter
Helena Kucera
Blanca Straub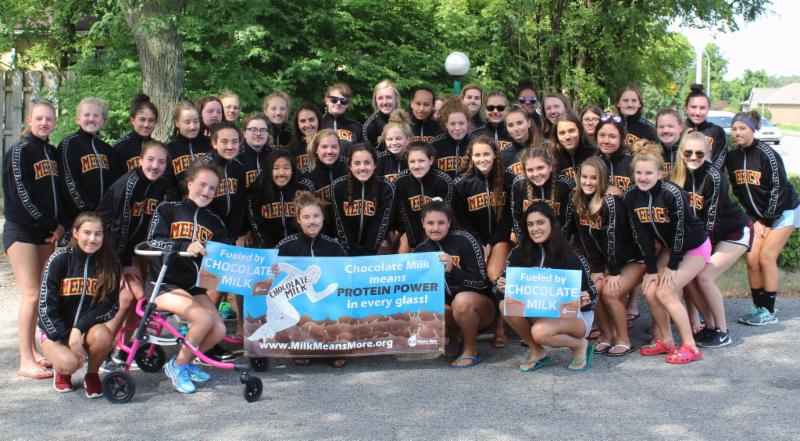 Michigan Chocolate Milk Mustache Celebrities! Mercy High School's Swim & Dive team has been named one of United Dairy Industry of Michigan's (UDIM) Chocolate Milk: Nature's Sports Drink grant recipients, which emphasizes good nutrition.
Yay, Yearbook - Lore staff received news that the 2017 Lore "This is What You Came For" was recognized with a first class ranking from the National Scholastic Press Association and a Spartan award from the Michigan Interscholastic Press Association, making it one of the top yearbooks in the country and the state of Michigan. One of the judges commented, "Lore 2017 is one of those very rare yearbooks that looks great at first glance, and even better as you look more closely at the details of each page." This marks the second straight year the yearbook has received such distinction.